Why I will never ever support Liz Warren.
Submitted by

dkmich

on Thu, 07/11/2019 - 8:09am
I think she is really Obama 2.0 no matter how hard she tries to be Bernie. She will tell you what you want to hear until elected.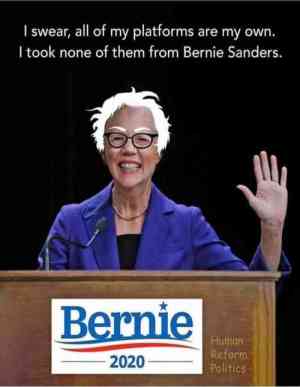 Here are 20 reasons I will never support Warren and this is just off the top of my head.
1. She ran and hid in 2016. 2020 She is the party's sheepdog to split the vote.
2. She did not go to standing rock.
Sen. Warren Turns Her Back on Native Americans After Exploiting Them
3. She called Assange a bad actor and does not defend him as a journalist.
4. She will take as much PAC and other dirty money as she can get her hands on if she is the nominee. She said so on TYT.
5. Wall Street and the Third Way support her. The media is pimping her.
6. Diane Ravitch wrote an editorial expressing her concern over Warren's tight ties to MA charter schools. She is linked to charter schools.

7. She stood and applauded Trump when he said this country would never ever be socialist.Notice Bernie sitting in front of her. She touts that she is a "capitalist to her bones".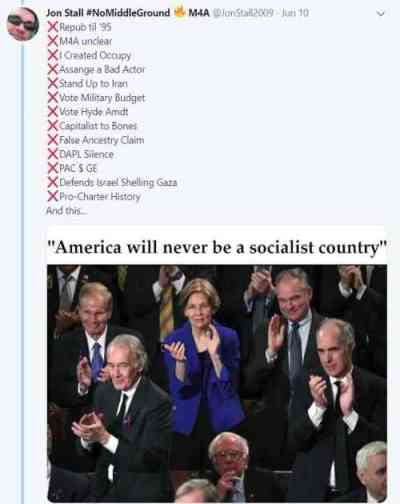 8. She was a conservative Republican until 1996.
9. She is pro Israel and never met a sanction or a war she didn't support.
10. She voted yes on giving Trump's bloated military an extra 60 bn above what was asked for. She actually proposed giving the military billions to clean up the environment. She called it a Green New Military.
11. She does not really support M4A. She has changed positions on this at least 10 times. Waffle, Waffle
12. She proposes to CAP Rx costs at $500/month. How many can afford that, and if she supposedly now supports M4A, why does she need this?
13. She does not support eliminating student debt. She wants to cap it at 50K still leaving the balance of these predatory and non- dischargeable debts in place. Include housing, books, and advanced degrees and most people will still be strapped with high interest, high penalty, non-dischargeable student loan debt.
15. She's a means tester. There are always "worthy and unworthy people" who should and should not benefit from what she proposes. Help with housing for the poor, women, offenders, e.g. is good. Help with housing for uninsured 27-year-olds working at substandard wages and living in their parents' basements to pay off the balance of their student debt, so what?
16. She ripped off "I have a plan" from Hillary, and she ripped off Bernie's agenda.
17. She and her campaign sound more like Oprah's "you get a car, she gets a car, everyone gets a car" show than a well thought out plan for the people and country like Bernie's does.
18. She is splitting the progressive vote and undermining the cause, and she doesn't care.
19. She is deceitful. She has PAC money in her fundraising numbers because she carried in a large sum from her Senate campaign.
20. She has zero crossover appeal and will lose MI and the rust belt to Trump. The Hillary crowd loves her. She has a vagina.
Another list, not mine, with some overlap.