Blue Dog Dems concern trolling the left again
Submitted by gjohnsit on Wed, 03/20/2019 - 6:04pm
"Just opposing Trump isn't enough" is simple common sense.
However, we are starting to accumulate evidence to back up this statement.
For instance, let's consider the article of faith behind #McResistance.

Amid signs that special counsel Robert Mueller's investigation into Russian election interference may be near its conclusion, a new USA TODAY/Suffolk University Poll finds that trust in Mueller has eroded and half of Americans agree with President Donald Trump's contention that he has been the victim of a "witch hunt."
...Twenty-eight percent say they have a lot of trust in former FBI director Mueller's investigation to be fair and accurate. That's the lowest level to date and down 5 points since December.
In comparison, 30 percent express a lot of trust in Trump's denials, the highest to date.
Trump being trusted more than Mueller doesn't square with #McResistance dogma.
Then there is the problem of keeping your base in a permanent state of partisan frenzy. Republicans are simply better at it.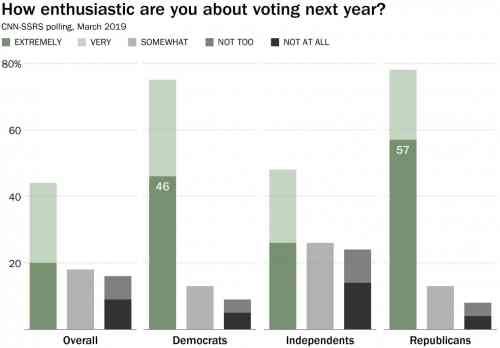 Simple common sense will tell you that people will stay motivated when they have something to believe in, rather than just something to oppose. Yet "moderate" Dems will tell you that watering-down your agenda and compromising your core values is the way to electoral victory.
"As we run up to this presidential [election], we need to show that Democrats, as a whole, are not socialists."
- California Representative Katie Hill
"while Steve King's views don't represent the entire Republican Party, those on the far left of the Democratic Party do not represent the mainstream caucus."
- representative Harley Rouda
"I think there's tremendous agreement and awareness that getting the majority and running over the left cliff is what our Republican opponents would dearly love."
- Ellen Tauscher, chairman of the New Democrat coalition
What Blue Dog Dems call the "far left agenda" is what allowed the Democrats to control both houses of Congress for 44 out of 48 years (1932-1980).
Since the Dems went full neoliberal in 1992, they've only controlled both houses of Congress for 4 years out of 26 years.
Quite simply, Blue Dog Dems can't do basic math.
Recently Alexandria Ocasio-Cortez was criticized for threatening to primary far-right Blue Dog Democrats. Pearls were clutched.

On Wednesday, the House passed a major gun control bill that is sure to die in the Senate, but which laid down an important marker of the party's priorities. Before that, however, a Republican amendment to the bill that would notify ICE when an undocumented person buys a gun was offered up and shockingly passed, due in part to the votes of 26 House Democrats—many of them members of the conservative Blue Dog Coalition caucus.

This wasn't a trade for "bipartisanship." Only eight Republicans voted for the final bill itself. Twenty-six Democrats just gave them a racist amendment for free. And as the Post notes, Democrats never managed to pass a "motion to recommit" amendment during the last eight years of a Republican majority in Congress; so far this year, the Democrats have already lost two.
So 26 Dems went pointlessly further to the right than all but eight Republicans were willing to go.
Blue Dogs aren't "moderates". If they vote with conservatives, they are conservatives.
Meanwhile, so-called liberal Dems are hypocritically going after outspoken leftist Dems (all of them women).
Rep. Ilhan Omar:

Local Democrats are seriously considering the prospect of supporting an unprecedented primary challenge to Minnesota Democratic Rep. Ilhan Omar in 2020, following a bipartisan condemnation of several of her remarks as anti-Semitic, according to officials and state representatives.

Activists and officials interviewed by The Hill said that although they have not yet recruited a viable alternative candidate to the 37-year-old Omar, frustrations are mounting.
Three former Hawaii governors are supporting Democratic state senator Kai Kahele in his primary race against Gabbard, the Honolulu Star-Advertiser reports. Ben Cayetano, Neil Abercrombie, and John Waihee have endorsed Kahele and will serve as honorary co-chairs for his campaign.

Abercrombie and Waihee headlined a fundraiser for Kahele last week, according to an invitation obtained by Politico.

The left-wing Daily Kos endorsed Kahele in a piece slamming Gabbard and arguing she has "repeatedly shown how out-of-step she is with mainstream progressive values" during her six years in Congress. The endorsement called Kahele a "vastly superior alternative" to Gabbard.
Rep. Alexandria Ocasio-Cortez:

If New York Democrats don't gerrymander the seat held by Rep. Alexandria Ocasio-Cortez, D-N.Y., into oblivion in 2020, they'll pit her against a serious primary challenger, and all because she helped torpedo the Amazon HQ2 deal.
The fight is on, and playing defense is not on the agenda.