American Hypocrisy over Trump's Inhumane and Racist Zero Tolerance Policy Approved by God
Submitted by

Big Al

on Fri, 06/22/2018 - 9:16pm
Liberals, especially the Hollywood liberals, progressives, especially the democratic party progressives, and democrats in general (because of Trump ya know) are all angry and indignant about the Trump administration "Zero Tolerance Policy" that has resulted in over 2,000 immigrant children being separated from their parents in the last couple months.
Rightly so.
Of course, republican (some) and democratic (some) party politicians have jumped into the act, showing the appropriate indigation to their constituents in this election year. Trump has rescinded the order evidently based on orders from his humanitarian wife and daughter.
But, what about this?
Madeline Albright, Democratic party Secretary of State under Democratic party president Bill Clinton talking about U.S. foreign policies, i.e., imperialism, regarding Iraq in the nineties that resulted in over 500,000 children's deaths. In 2003 the Bush administration attacked Iraq with their psychopath inspired "Shock and Awe", launching a murderous war killing over a million people including hundreds of thousands of children, continued under Obama, that has continued the U.S. genocidal march against Iraqi children to this day.
How about the child genocide in Yemen, a U.S. backed war in line with U.S. foreign policy of controlling that area which includes one of the seven "oil chokeholds" on the planet, begun by democratic party president Obama?
Yemen: More than 50,000 children expected to die of starvation and disease by end of year
https://www.independent.co.uk/news/world/middle-east/yemen-war-saudi-ara...
Yemen: a western-sponsored genocide
https://www.investigaction.net/en/yemen-a-western-sponsored-genocide/
"Yesterday was the two-year anniversary of President Barack Obama's most indefensible and harmful foreign-policy decision. On the evening of March 25, 2015, a statement from National Security Council spokesperson Bernadette Meehan was posted on the White House's website: "President Obama has authorized the provision of logistical and intelligence support to GCC [Gulf Cooperation Council]-led military operations. While U.S. forces are not taking direct military action in Yemen in support of this effort, we are establishing a Joint Planning Cell with Saudi Arabia to coordinate U.S. military and intelligence support." Two days later, Obama called Saudi King Salman bin Abdulaziz al-Saud and "reaffirmed the strong friendship between the United States and Saudi Arabia and emphasized the United States' support for the action taken by Saudi Arabia, GCC members, and others."
Happy Anniversary to America's Shameful Travesty of a War in Yemen

http://foreignpolicy.com/2017/03/27/happy-anniversary-to-americas-shamef...
https://www.counterpunch.org/2018/05/22/scourging-yemen/
How about the war in Syria, started under democratic party president Obama and Secretary of State Hillary Clinton and continued by republican party president Trump. Democratic party supporters, in particular the 80% that approve of Obama's job performance, have been active cheerleaders for the regime change/country balkanization operation resulting in record numbers of child refugees and an emerging child genocide situation (see Genocide Watch below).
http://genocidewatch.net/alerts-2/new-alerts/
The UN officials warn that 2018 numbers could be even worse.

"Every single day – for seven years now – children are enduring endless suffering through bombing, bullets, expulsion, famine, and deaths of relatives and friends," said the chief of UNICEF Germany, Christian Schneider. "There is a merciless war against children in Syria, and it needs to be stopped immediately."
UNICEF: Child deaths rise sharply in Syria
http://www.dw.com/en/unicef-child-deaths-rise-sharply-in-syria/a-42944524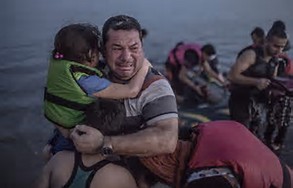 Or,
How about this country:
16 million American kids struggle with hunger each year. An estimated 48.8 million Americans , including 16.2 million children, live in households that lack the means to get enough nutritious food on a regular basis. As a result, about 1 in 5 children go hungry at some point during the year.

https://mashable.com/2016/07/14/child-hunger-united-states/#RCH8aMbiDaq7
How about Sudan and Somalia? Venezuela? We could go on all day. Like, how about the democratic and republican party imperialist policies going back well over a century that have directly CAUSED much of the human migrant issues south of the border?
https://popularresistance.org/immigrant-rights/
While the U.S. federal government response under Trump has been appalling, what about the actions taken under Obama and Clinton, democratic party presidents with democratic party administrations? Where is the democratic party outrage about the child genocides occurring in Iraq, Syria, Libya, Yemen and Somalia directly resulting from U.S. imperialism?
Where is the outrage from the Hollywood democratic party liberals about the 16 million kids in this country that don't get enough to eat?
There isn't any because the democratic party is a full participant with the republican party in the U.S. policy of global neoconservative imperialism, and Wall Street neoliberalism, that has directly facilitated and continued these crimes against and affronts to humanity. Liberals and progressives who support the democratic war party are lacking the moral consistency to justify their outrage against Trump's immigration policies because they can't and won't oppose U.S. imperialism. Democratic party voters can no longer hide behind the lie that the republican party is the driver of U.S. imperialism and the accompanying wars, regime changes, and child genocides. The democratic party is a full and equal partner.
Fucking hypocrites are in the way.
It's time for a true challenge to the political duopoly. This coming election would be a good place to start.
Humanity's 'Dirty Little Secret': Starving, Enslaving, Raping, Torturing and Killing our Children
"Every day, according to some estimates, human adults kill 50,000 of our children. The true figure is probably significantly higher. We kill children in wars. See, for example, 'Scourging Yemen'. We kill them with drones. We kill them in our homes and on the street. We shoot them at school.

We also kill children in vast numbers by starving them to death, depriving them of clean drinking water, denying them medicines – see, for example, 'Malaria is alive and well and killing more than 3000 African children every day' – or forcing them to live in a polluted environment, particularly in parts of Africa, Asia and Central/South America. Why? Because we use military violence to maintain an 'economic' system that allocates resources for military weapons, as well as corporate profits for the wealthy, instead of resources for living."